With the strengthening of the prevention and control of the epidemic worldwide, the products of disinfection and epidemic prevention equipment are continuously upgraded. In order to ensure that passengers can use it safely and safely, now YG Machinery has launched a UV trolley sterilizer to ensure full coverage of disinfection and no dead ends. It can be used for luggage inspection in railway stations, airports, bus stations, and subways with high passenger flow. If you are looking for a UV trolley sterilizer for sale, please leave your message.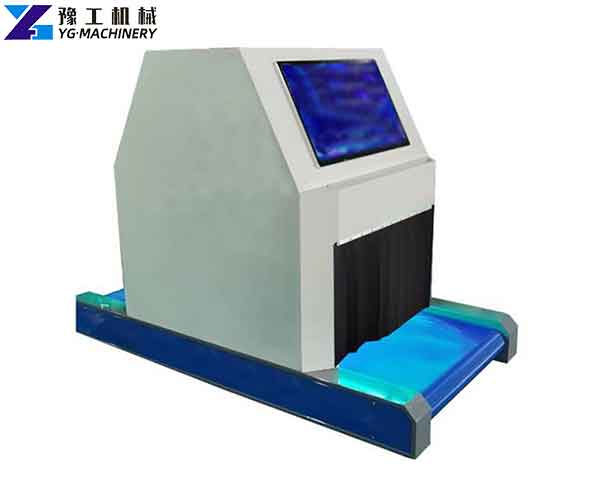 Parameters of Automatic Trolley Disinfection Tunnel:
Total weight
<300kg
Power
1500W
Starting method
Induction start
Cooling method
Air cooling
Sterilization
99.99%
Working time
Continuous work
Disinfection technology
Ultraviolet radiation disinfection,

Ozone disinfection

Disinfection time
15 -30S
Transmission speed
Adjustable
Dimensions
2000mm*1000mm*1900mm
Maximum load
260kg
Power supply
AC230V/60HZ
Application
Airports, stations, ports, shopping malls, etc.
Luggage /shopping carts sterilization in crowded public places.
Mobile UV Disinfection Trolley
The UV trolley sterilizer adopts the principle of ultraviolet disinfection, which can work 24 hours a day, and the sterilization rate in 30 seconds is as high as 99.99%. Due to its own sterilization function, ultraviolet light has short wave amplitude, high energy, and high sterilization function, so it is often used in sterilization equipment. After the disinfection machine is started, it will automatically move back and forth on the ground track, and project ultraviolet rays onto the trolley through its own ultraviolet emission device to achieve a 360-degree disinfection effect.
Each disinfection time is about 5 minutes, and 10 A trolley was disinfected. It not only greatly improves the efficiency of disinfection, but also avoids the corrosion of the trolley that may be caused by the use of disinfectant and the basket frame and wheels of the trolley that cannot be wiped by the daily disinfection mode, so as to achieve full coverage of the trolley without dead corners. Click here you can check our mobile UV disinfection trolley for sale.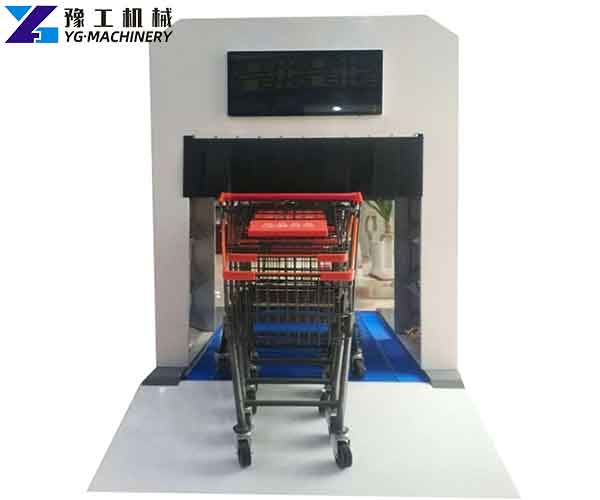 Features of UV Trolley Sterilizer:
Can quickly and effectively kill various bacteria, viruses, and other microorganisms;
Adopt the Internet of things technology, automatic induction transmission, through the automatic transmission function, assembly-line operation, that is, sterilization and disinfection go immediately, with good sterilization effect;
Simple operation and convenient maintenance. Luggage items, trolleys, etc. can be disinfected in all directions within 30 seconds after entering the disinfection area;
Small footprint, large processing capacity, continuous and uninterrupted operation, and disinfection work;
No pollution, strong environmental protection, no side effects;
Low investment cost, low operating cost, and convenient equipment installation.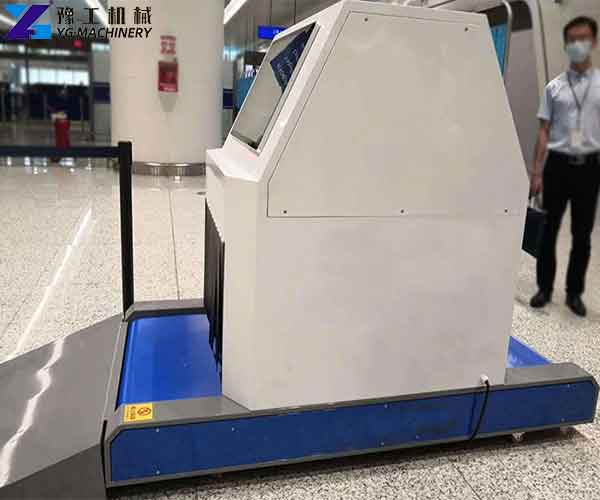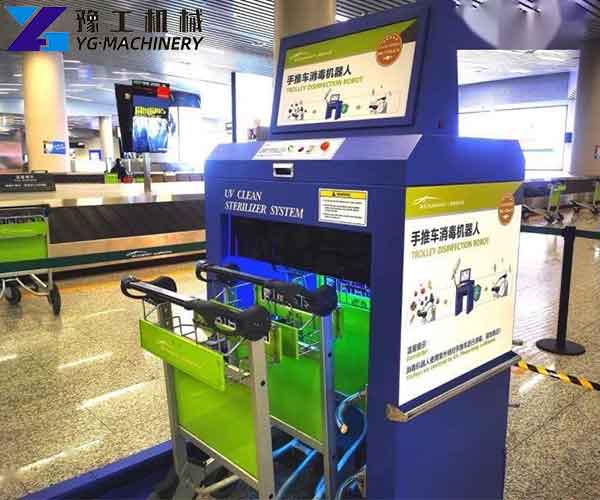 Luggage UV Disinfection Tunnel for Sale
In order to prevent and control the spread of the virus, it is not only necessary to sterilize and inspect personnel, but also to sterilize carry-on luggage. The airport has a large passenger flow, and the trolleys are used by many people every day, and they are prone to various bacteria. In order to ensure that the hand trailers used by passengers are safe, the staff has to sterilize the hand trailers within an hour. But it is difficult to achieve a full range of sterilization and disinfection, which increases the workload of the staff. Contact us to get UV trolley sterilizer price right now.
So the disinfection equipment is constantly upgraded to reduce the complicated operation of the staff, speed up the work process, and save time. Trolley disinfection tunnel is the equipment used by passengers with high frequency and high mobility at airports. In order to ensure the sterilization and disinfection of luggage and luggage trolleys, this airport trolley sterilization machine is used, and the luggage can be completely sterilized within ten seconds after putting it in. Simple, convenient, and able to work uninterrupted. Brings safety protection for passengers and friends. Send your requirement to us if you need to buy UV trolley sterilizer for sale.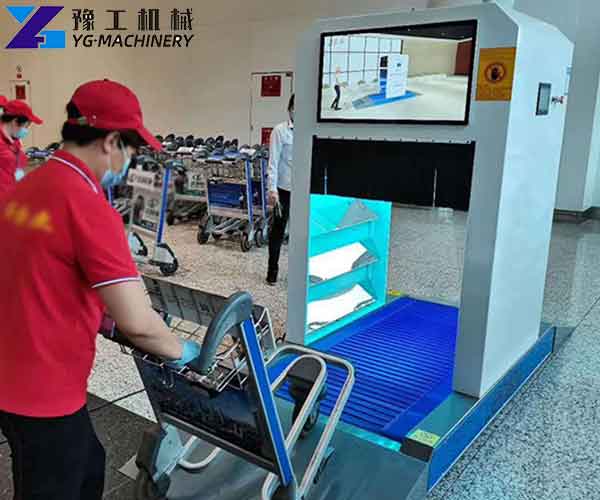 Cheap Mobile UV Trolley Sterilizer for Sale
In order to do a good job in the prevention and control of the epidemic and the resumption of work and production, and to strengthen the safety prevention and control of personnel, the market has successively introduced a number of black technologies such as air disinfection machines, airport trolley sterilizer, fog sprayer machines, and disinfection channel, and resumed work in all directions. Production safety protection work. To learn more about epidemic prevention equipment products, you can click the message box below or add my WhatsApp+8613598866720, I will answer your questions as soon as possible.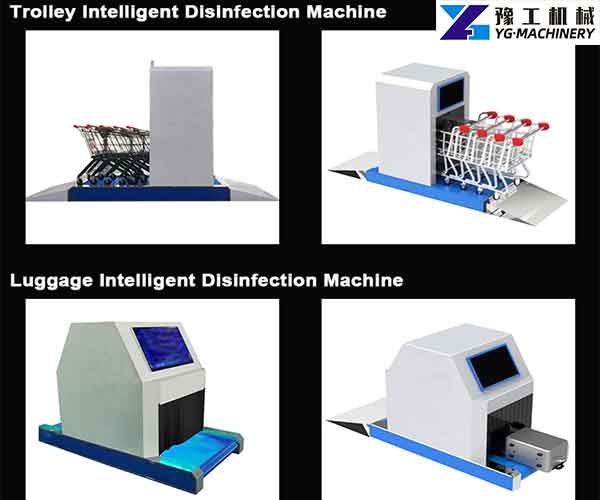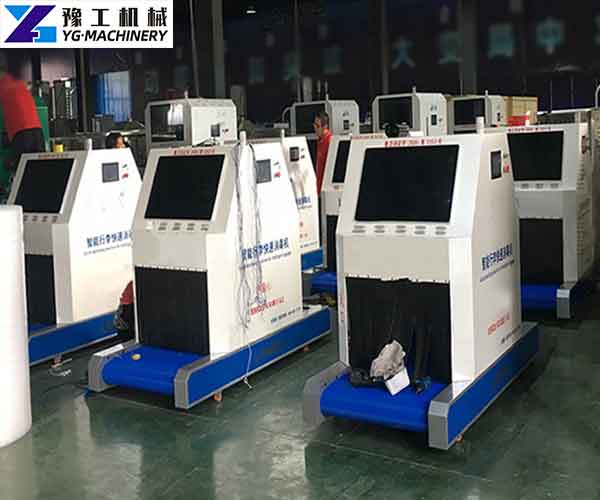 Best UV Trolley Sterilizer Manufacturer
In order to prevent and control the spread of the epidemic and the safety and health of ourselves and our families, epidemic prevention products are constantly being upgraded, including the safety and health of us and those around us more comprehensively.  YG Machinery not only have a trolley disinfection machine but also a disinfection door, disinfection channel, fog sprayer machine, electrostatic backpack sprayer, car disinfection fogging machine, fogging sanitizer machine and mask making machine, meltblown machine, wet wipe machine, glove making machine, ultraviolet disinfection robot, portable oxygen concentrator, industrial oxygen concentrator, etc. to choose from.
Other Products
YG Machinery is a construction machinery manufacturer, YG Machinery owns a variety of mechanical equipment. Such as water well drilling rigs, core drilling rig, DTH drilling rig, floor grinding machine, mist cannon machine, pile breaker, hydraulic rock splitter, shot blasting machine, vibratory road roller, mortar sprayer machine, road marking machine, thermoplastic road marking machine, asphalt crack filler machine, asphalt milling machine, automatic sandblasting machine, concrete road cutting machine, etc. A free consultation is welcome.