The intelligent disinfection door is a kind of automatic infrared switch when the human body passes through the disinfection door, so as to start the ultrasonic atomizer to spray out the sterilization agent, sterilize. At the same time, a human body temperature alarm and a thermal imaging body temperature detector can be added to detect the body temperature of the personnel and to sterilize the passing personnel and articles without contact.
Composition: Ultrasonic spray anti-virus system, ultraviolet sterilization and disinfection system, blue light start button, spray hole, ultraviolet light, blue light, disinfectant contact place. In addition, YG Machinery also has a disinfection channel, fog sprayer machine, car disinfection fogging machine, fogging sanitizer machine, and more. If you are interested in this, please contact us as soon as possible.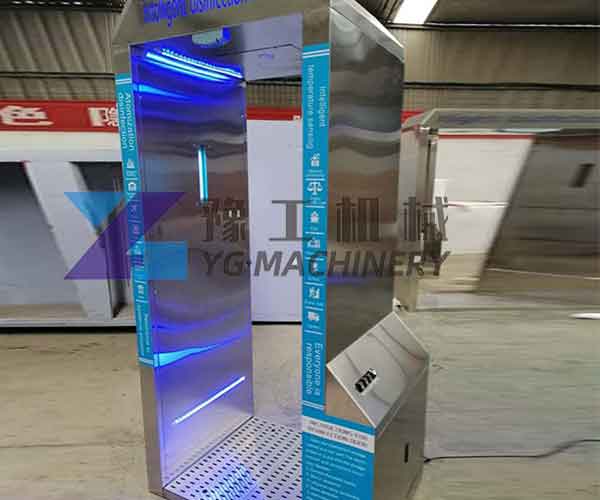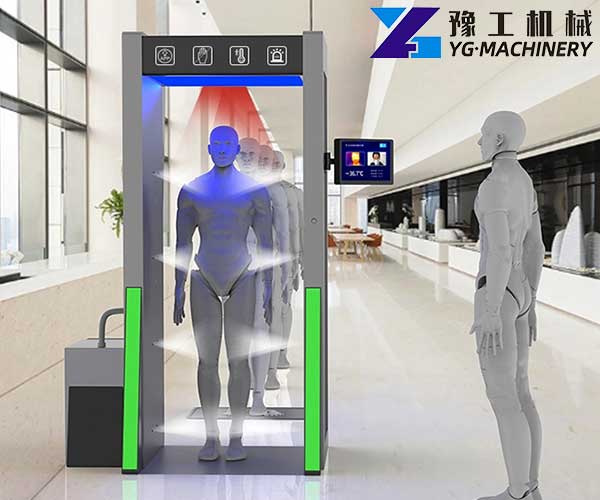 Parameter of Disinfection Door:
Model
Regular
Upgraded
Advanced
Antivirus system
Auto-induction mist disinfection
Auto-induction mist disinfection
Auto-induction mist disinfection
Ultrasonic antivirus
Ultrasonic antivirus
Ultrasonic antivirus
Ultraviolet antivirus
Ultraviolet antivirus
Ultraviolet antivirus
Temperature detection system

__

Palm temperature detection
Face recognition temperature detection

__

High-temperature alarm system
High-temperature alarm system
Dimension

2.45*1.24*0.86m

Weight

150kg
Functions and Features of Disinfection Door:
Fully automatic intelligent personnel entry and exit identification, automatic disinfection of personnel entering the field, and no disinfection (or two-way disinfection) when going out;
The system uses a high-pressure atomization device, the atomized particles are fine, will not stick to clothing, the spray head is easy to clean, and the maintenance cost is low;
Anti-leakage and anti-leakage design, the motor adopts low-temperature design, strong overload capacity, safe use;
Easy installation, practical and efficient, spraying as soon as the system is started;
The infrared human body detection system, automatic warning signal light for body temperature abnormality, All-round disinfection setting without a dead angle.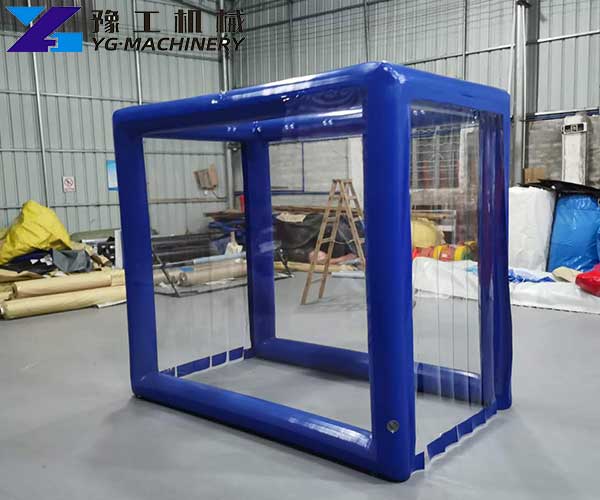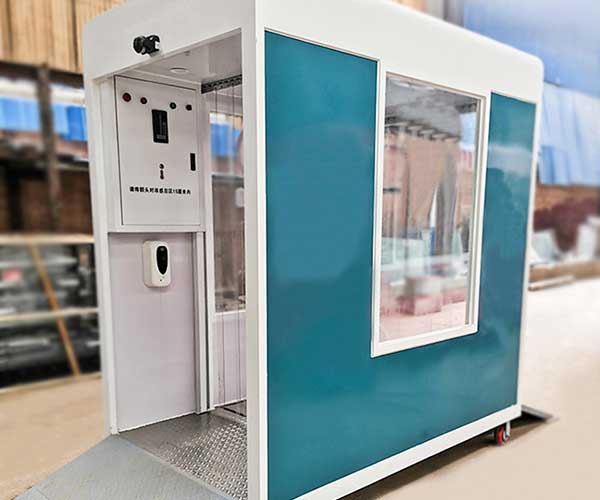 Scope of Application of Disinfection Door:
Airport, railway station, and other places with high traffic volume;
School entrance, shopping mall entrance, office building entrance, community entrance; hotel and catering industry;
All the places where the entrance is dense or the flow of people is large, such as the factory area.
In addition, it can be customized according to the needs of different venues that customers meet.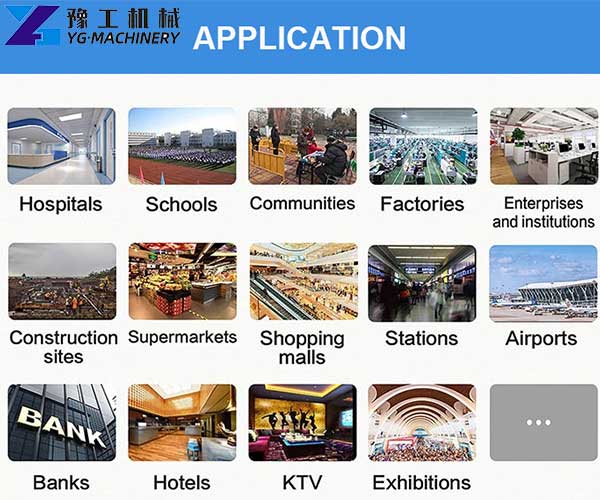 Product Advantages of Intelligent Disinfection Door:
Anti-leakage, anti-leakage, long service life;
Safe and effective, non-contact disinfection, small footprint, simple operation, wide application range;
Matrix type whole-body disinfection without dead angle;
Humanized design and reasonable layout will not cause discomfort to the respiratory tract and other organs;
The overall stainless steel material is resistant to corrosion and deformation, and can be easily moved;
Plasma, ultraviolet, lightwave disinfection multiple disinfection, disinfection is more thorough;
220v city power, convenient switching, simple operation, economic and environmental protection;
The human body temperature alarm and thermal imaging body temperature detector can be added to perform intelligent body temperature detection for personnel.

Disinfection Door for Sale
Why Choose an Intelligent Atomization Disinfection Door?
Generally, the place where the disinfection door is placed in a public place with a large population density or a large flow of people. However, the spread of the virus in the population gathering place in public places is even more unpredictable. However, the traditional disinfection method is not only cumbersome and time-consuming. And there is a certain blind area, it is difficult to achieve the effect of disinfection. The intelligent disinfection door is a device that breaks the traditional way, with simple operation, practicality, and high efficiency. It can automatically carry out a full range of sterilization and disinfection devices based on infrared detection, thereby reducing the spread of viruses. Please contact us in time.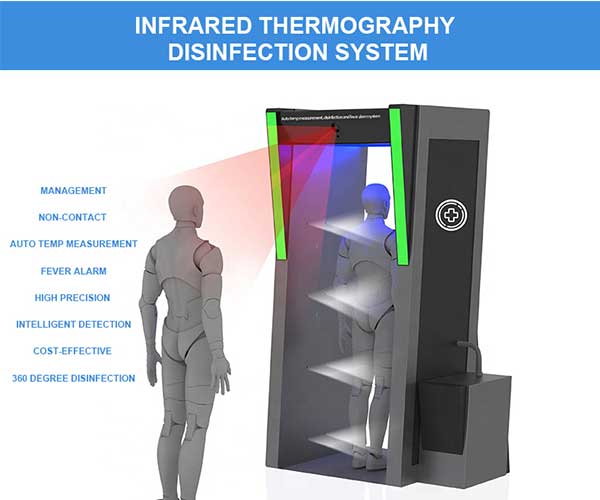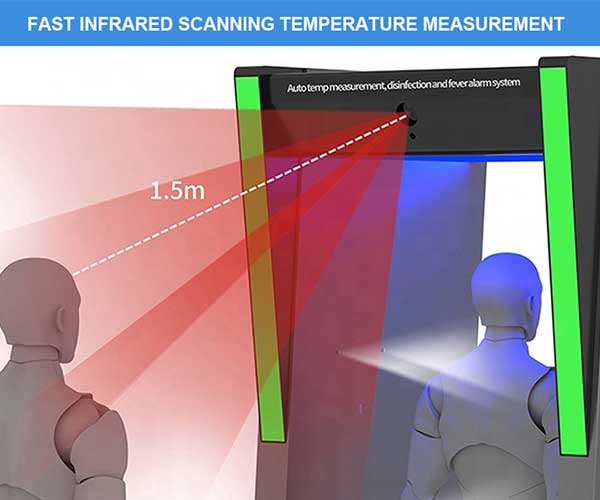 Operation Instructions
Open the disinfectant storage cabinet put the disinfectant with good proportion into the storage cabinet and connect the pipe diameter.
Connect the power supply.
Start, in turn, Ultrasonic spray disinfection, Ozone disinfection, Start button, and equipment of blue light can operate normally.
turn off in turn, Ultrasonic spray disinfection, Ozone disinfection, Start button of the blue light lamp, the equipment can be closed, and the temperature measurement system can be started automatically.
Makeup water: add disinfectant mixture according to consumption to ensure certain atomization water level.
Device Installation
The power supply of this machine is a three-phase four-wire (3P + N) system, power 3KW (1.1KW).
Before the equipment starts running, it is necessary to ensure that water and electricity are properly connected, and the pump head needs to be filled with oil. It is strictly forbidden to run without oil.
The equipment has a protection device for automatic shutdown (and alarm) when there is a shortage of water. There must be a certain pressure difference at the water inlet of the pump head.
Remove the 1-2 spray heads before starting the equipment after the equipment pipeline is connected, test the equipment for 5-10 seconds to exhaust the air in the pipeline, and reinstall the spray head before starting the equipment.
Adjust the pressure regulating valve of the equipment to keep the working pressure in the range of 60-90kg / cm2, and do not damage the pipeline with excessive pressure.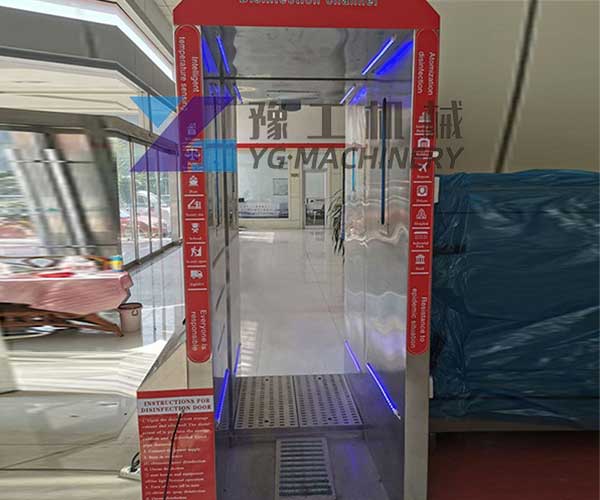 Intelligent Disinfection Door Manufacturer-YG Machinery
Because the intelligent atomization disinfection door is easy to operate and can achieve high-efficiency disinfection. In order to control the spread of virus aggregation and cause cross-infection, many sites have introduced disinfection doors. However, different places have different requirements for sterilization. Of course, different places have different requirements for the size of intelligent atomization disinfection doors. YG Machinery can customize disinfection doors with different requirements according to different types of hotels, schools, companies, and some special disinfection sites. for more information about disinfection doors, please contact us in time, our company will have a dedicated technical staff to answer your doubts in time.