The intelligent disinfection door is used to spray the disinfection of people passing through the entrance of public space when an emergency public health event occurs. And it can perform non-contact temperature detection of personnel, which is simple, safe, intuitive, and accurate to determine whether personnel have abnormal body temperature. Abnormal conditions (temperature higher than the set temperature) have a voice alarm and cannot pass through the disinfection door. The operation of the equipment is intelligently controlled, without special personnel control.
Composition: Ultrasonic spray anti-virus system, ultraviolet sterilization and disinfection system, blue light start button, spray hole, ultraviolet light, blue light, disinfectant contact place. In addition, YG Machinery also has a disinfection channel, fog sprayer machine, car disinfection fogging machine, fogging sanitizer machine, and more. If you are interested in this, please contact us as soon as possible.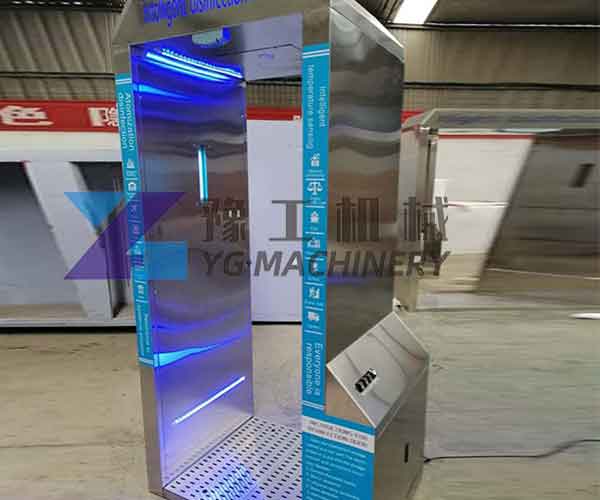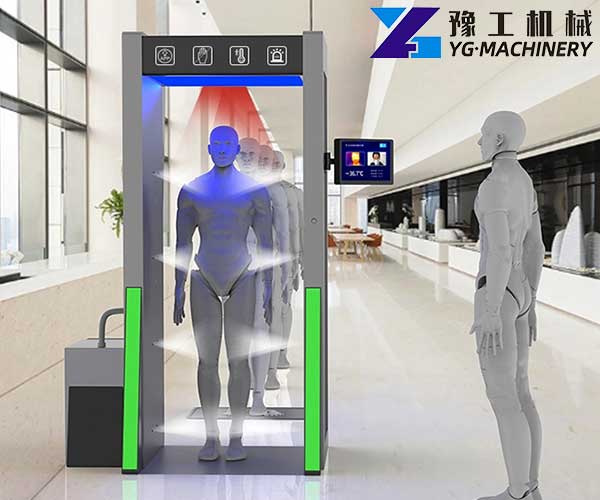 Parameter of Disinfection Door for Sale:
Model
Regular
Upgraded
Advanced
Antivirus system
Auto-induction mist disinfection
Auto-induction mist disinfection
Auto-induction mist disinfection
Ultrasonic antivirus
Ultrasonic antivirus
Ultrasonic antivirus
Ultraviolet antivirus
Ultraviolet antivirus
Ultraviolet antivirus
Temperature detection system

__

Palm temperature detection
Face recognition temperature detection

__

High-temperature alarm system
High-temperature alarm system
Dimension

2.45*1.24*0.86m

Weight

150kg
Functions and Features of Intelligent Atomization Disinfection Door:
Fully automatic intelligent personnel entry and exit identification, automatic disinfection of personnel entering the field, and no disinfection (or two-way disinfection) when going out;
The system uses a high-pressure atomization device, the atomized particles are fine, will not stick to clothing, the spray head is easy to clean, and the maintenance cost is low;
Anti-leakage and anti-leakage design, the motor adopts low-temperature design, strong overload capacity, safe use;
Easy installation, practical and efficient, spraying as soon as the system is started;
The infrared human body detection system, automatic warning signal light for body temperature abnormality, All-round disinfection setting without a dead angle.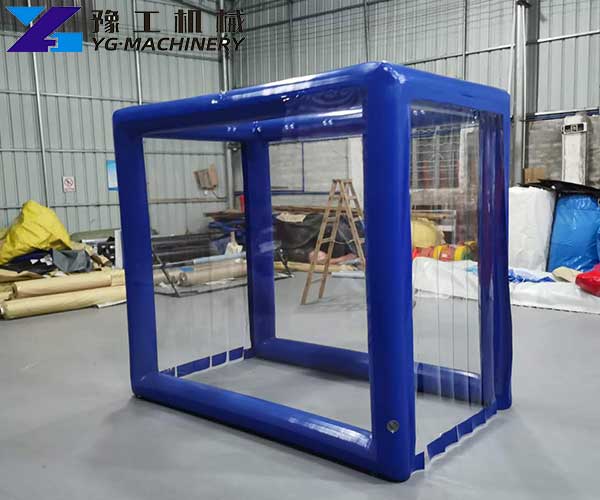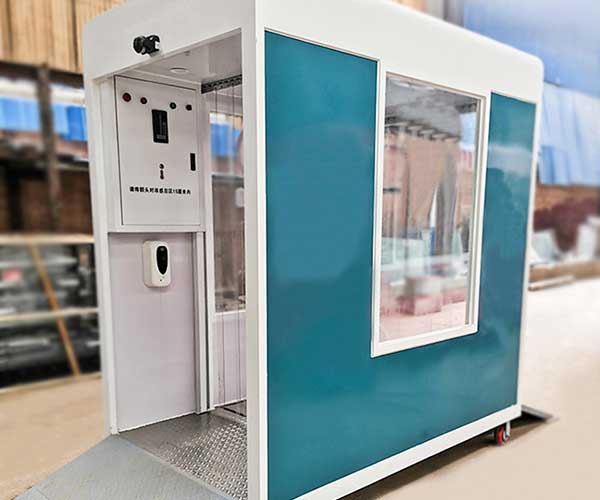 Scope of Application of Intelligent Disinfection Door for Sale:
Airport, railway station, and other places with high traffic volume;
School entrance, shopping mall entrance, office building entrance, community entrance; hotel and catering industry;
All the places where the entrance is dense or the flow of people is large, such as the factory area.
In addition, it can be customized according to the needs of different venues that customers meet.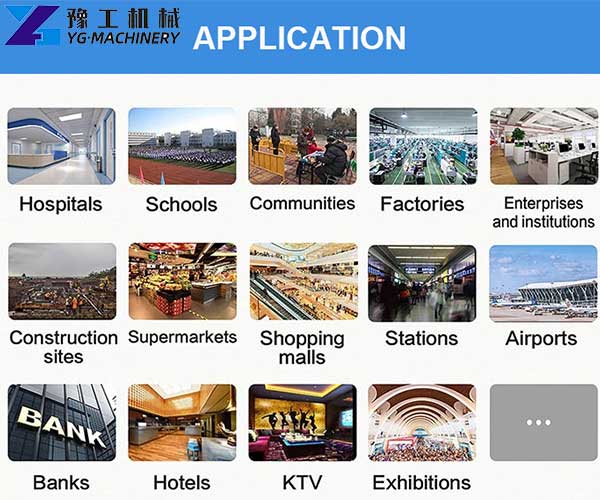 Product Advantages of Intelligent Disinfection Door:
Anti-leakage, anti-leakage, long service life;
Safe and effective, non-contact disinfection, small footprint, simple operation, wide application range;
Matrix type whole-body disinfection without dead angle;
Humanized design and reasonable layout will not cause discomfort to the respiratory tract and other organs;
The overall stainless steel material is resistant to corrosion and deformation, and can be easily moved;
Plasma, ultraviolet, lightwave disinfection multiple disinfection, disinfection is more thorough;
220v city power, convenient switching, simple operation, economic and environmental protection;
The human body temperature alarm and thermal imaging body temperature detector can be added to perform intelligent body temperature detection for personnel.

Disinfection Door for Sale
Why Choose an Intelligent Atomization Disinfection Door?
Intelligent atomization disinfection doors are widely used in places with a large number of people and complex environments. People are mobile and the environment they come into contact with is more complicated. They are often easy to carry pathogenic microorganisms, which becomes an important way of transmission! Intelligent disinfection doors are through scientific, Reasonable, and effective disinfection, cutting off the new type of transmission route, and reducing the number of pathogenic microorganisms can reduce or avoid the occurrence. The disinfection door can automatically carry out a full range of sterilization and disinfection devices based on infrared detection, thereby reducing the spread of viruses. Now contact us to get a cheap intelligent disinfection door price factory price.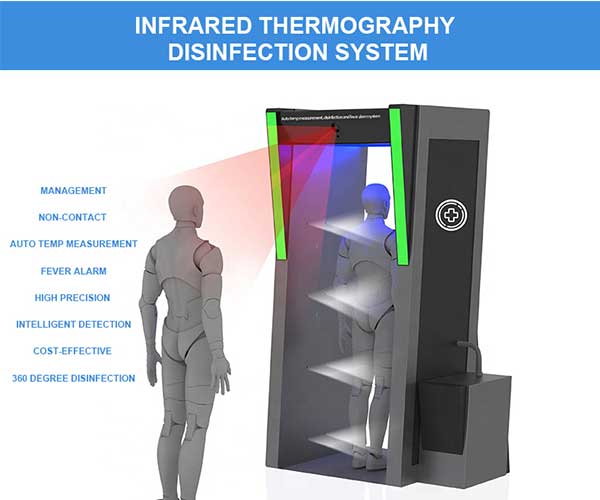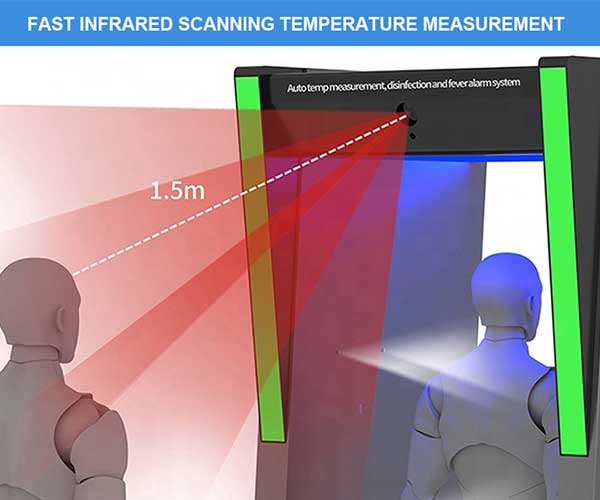 Operation Instructions of Sanitization door :
Open the disinfectant storage cabinet put the disinfectant with good proportion into the storage cabinet and connect the pipe diameter.
Connect the power supply.
Start, in turn, Ultrasonic spray disinfection, Ozone disinfection, Start button, and equipment of blue light can operate normally.
turn off in turn, Ultrasonic spray disinfection, Ozone disinfection, Start button of the blue light lamp, the equipment can be closed, and the temperature measurement system can be started automatically.
Makeup water: add disinfectant mixture according to consumption to ensure a certain atomization water level.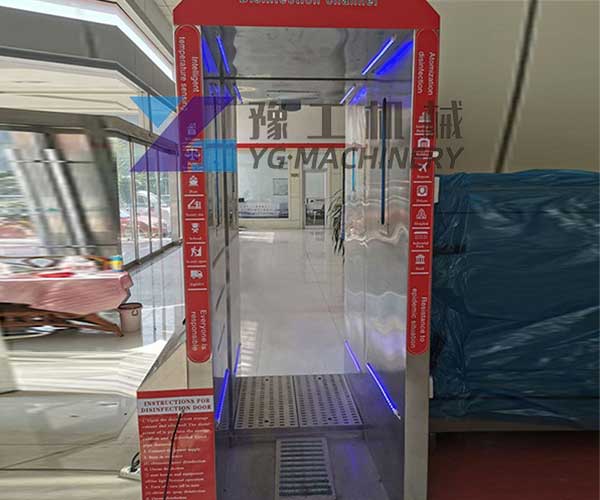 Intelligent Disinfection Door Manufacturer-YG Machinery
In order to control the spread of virus aggregation and cause cross-infection, many sites have intelligent disinfection doors. However, different places have different requirements for sterilization. Of course, different places have different requirements for the size of intelligent atomization disinfection doors. YG Machinery can customize different atomization disinfection door sizes according to the needs of different places. In addition, we also have a disinfection channel, disinfection robot, electrostatic backpack sprayer, wet wipe machine, mask making machine, tissue paper machine,  industrial oxygen generator, oxygen concentrator machine. Contact us now to get the price of the disinfection door.